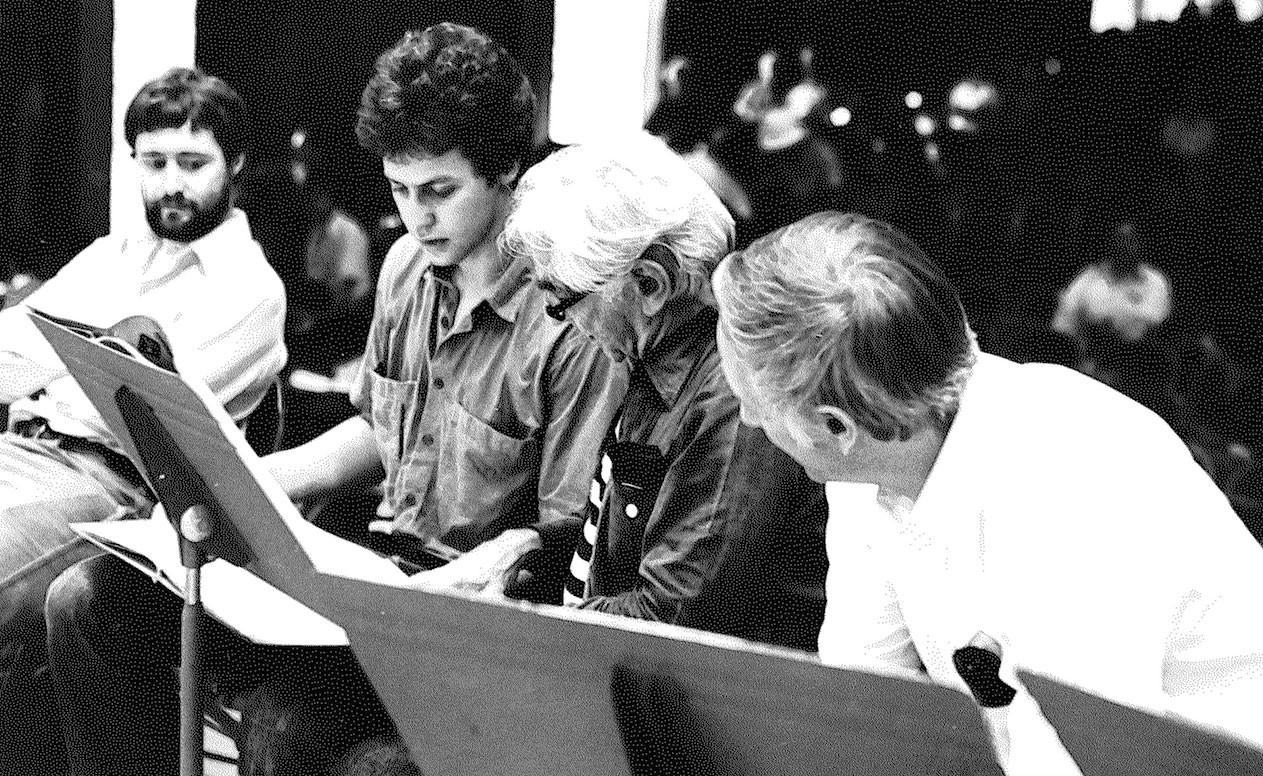 George Hanson, Director, Tucson Desert Song Festival
Let's get one thing straight: we NEVER called him Lenny!
For the last seven years of his life, I had the great privilege and honor of working with and for the most important and influential American musician of all time: Leonard Bernstein. From the moment I met him in January of 1982 at Indiana University, I sensed that my career path and even my life course would be changed by this powerful figure of American culture.
Mr. Bernstein, as we always called him, came to Indiana University that year to finish composing what was to become his final completed work for stage: A Quiet Place. It was a sequel to Trouble in Tahiti (see TSO performances February 2-4), a semi-autobiographical short opera, a seminal work that is essential to understanding the man and the composer.
LB, as we referred to him amongst ourselves, cut a swath a mile wide through the culture of IU's enormous School of Music. Wild parties, racy songs improvised on the spot, and great stories were interspersed with moments of inspiration so profound they could change the way a musician approaches the art form forever.
My first conducting lesson with him was a case in point: with a full orchestra onstage at the IU Musical Arts Center theater, with 1,000 people in attendance, Mr. Bernstein showed up 20 minutes late. He was wearing a fox fur coat, sporting Porsche aviator sunglasses and holding a steel cup of liquid in one hand and a cigarette holder in the other. The "maestro" effect was in full force.
I had been asked to start the event in his absence, and was busy conducting Brahms' Second Symphony when he walked in. He watched closely from the back of the stage as I led the orchestra through the first movement. He then approached the podium, eliciting applause from the audience and orchestra.
He smiled, and announced in the gruffest tones of someone who had been up too late the night before, "Hello, I'm Leonard Bernstein." After the laughter subsided, he looked at me and said, "Mr. Hanson, yes? You're very good, by the way." He asked for my conducting baton and took the podium, saying, "Let me show you a few things about Brahms."
Without another word, he began conducting the same music I had finished moments before. But it sounded different—MUCH different. With his gestures, facial expressions and body movements, he transformed the sound of the orchestra. Players and audience were transfixed. He dug into the dark underpinnings of Brahms' orchestration– "More sound, violas!" he said with his body—while with his hands drawing out and stretching the soaring melodies of the score.
At the end of the exposition, he let the music quietly dissipate. After many seconds of stunned silence, the audience burst into applause. He stepped off the podium, smiled at me, handed back my baton and said simply, "There. Now YOU do that!"
I have spent the subsequent 35 years trying to do just that.
The following summer I worked with Mr. Bernstein at the Hollywood Bowl; the summer after that together at Tanglewood . Those of us fortunate to be around him experienced the depth of his understanding of music and art.
He explained how, as he was conducting a work by a great composer like Brahms or Wagner, he sensed that he was actually composing the work as he performed it. At Tanglewood one afternoon, six or eight of us sat on the chairs surrounding LB as he began singing the flute solo from the finale of Brahms' fourth symphony, to demonstrate how he thought it should be played.
It was so powerful, so profound, each note imbued with meaning as Brahms expressed deep sadness. We were mesmerized. Bernstein was channeling Brahms before our eyes.
After he finished the two-minute solo, he sank into the sofa, exhausted. We young musicians had just seen how deeply involved in the music we must become.
Over the course of nearly 8 years, I worked on projects with the maestro, serving as assistant; perhaps the most meaningful was the final performing version and Deutsche Grammophon recording of A Quiet Place at the Vienna State Opera—the very work he was creating when I first met him.
Throughout this year's Tucson Desert Song Festival, on the 100th anniversary of his birth, we will be exploring what made Leonard Bernstein so influential, so important to American music. Leonard Bernstein broke down the barriers between jazz, Broadway, popular music and the classical realm. He, along with his dear friend Aaron Copland, defined the sound we now recognize as American classical music. He taught generations of American musicians.
I hope you enjoy this wonderful journey with us!
George Hanson