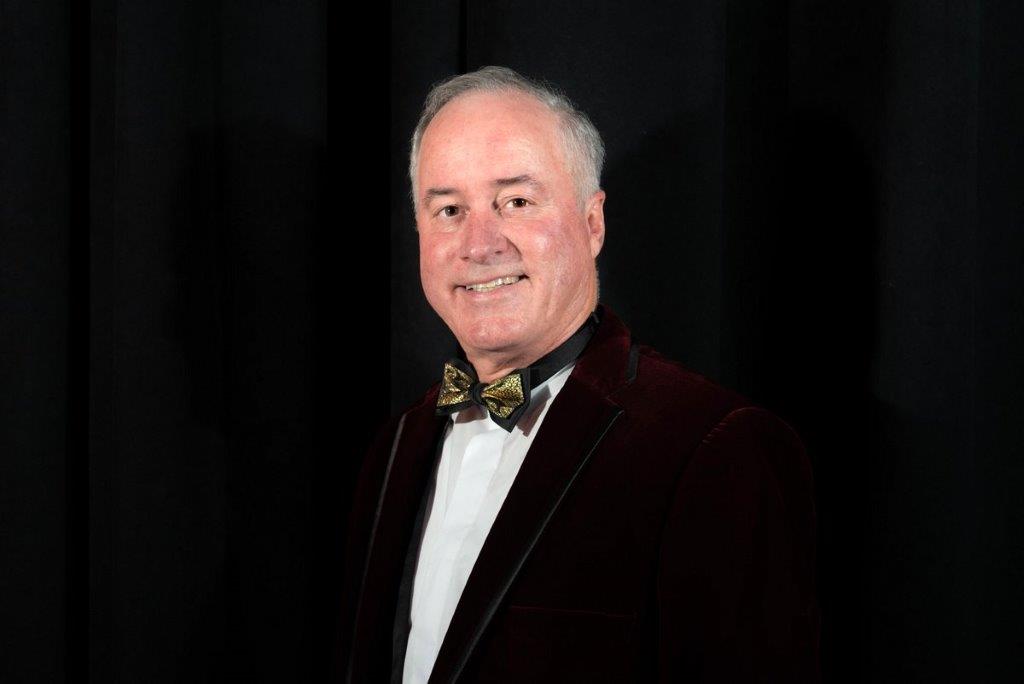 Performance Year: 2020
Rob began taking banjo lessons as a ten-year-old at Manolio's Music in Huntington Beach, California, from Charles Shortino. His first public appearance was at Shakey's Pizza Parlor on Beach Blvd in Huntington Beach, CA. Shortly thereafter he formed the band, American Ingenuity, with Dan Reed, Al Perine, and Jim Berrier. They played razzmatazz and sang barbershop quartet music. American Ingenuity played regularly at Tropiano's in Anaheim, CA and they won sweepstakes at the Orange County Fair in the late 1970s.
Rob moved to Tucson, AZ after his freshman year in college, where he attended the University of Arizona as a voice major and became the first banjo player at The Famous Gaslight Theatre. Two years later he dropped out of college and moved back to Southern California to try and make it as a professional musician. He put a trio together to work a summer at The Disney Land Hotel in 1979 where he met his future wife Linda who was a schoolteacher, and would later become his singing partner.
In December of 1979 Rob became a member of The New Christy Minstrels. Consequently, in the next few years he performed in all 50 states, Canada and Mexico. After leaving the Christies, Rob and Linda married and moved to Big Bear Lake, CA. They spent the next five years performing as the duo Variety, throughout the Western United States including California, Arizona, Colorado, Washington, Oregon, Alaska and Hawaii but mostly summers in the casinos throughout Nevada and winters at the El Morocco Hotel in Palm Desert, CA.
Rob retired from "the road" in the fall of 1985 and began working as a ski shop manager for Le Roy's in Big Bear Lake while he eventually earned his BA in English and Liberal Studies from Cal State San Bernardino. Rob and Linda continued to play casuals until they moved back to Tucson with their five-year-old daughter, Lacey in 1994. After starting a new career as a Financial Advisor with Dean Witter, Rob reformed the old Bourbon Street Stompers of Tucson as the Rob Wright Dixieland Showband. They performed regularly at Gus n' Andy's Steakhouse from 1996 through 2000. They produced one CD, Live at Gus n' Andy's.
In 2002 Rob was invited to join The Original Wildcat Jass Band formed by a group of music professors out of The University of Arizona. They made their first CD in 2004 and recently released their second CD, I'll Be Glad When You're Dead. The Wildcats, a world-class traditional jazz band, perform concerts and shows throughout the Southwestern United States. Rob released a banjo CD, Always, using the Wildcats for accompaniment in 2005. In 2006 he released A Banjo For Christmas featuring Orchestrations by Rob Boone vocals by Linda, and a cameo by The Wildcats. Rob and Linda live in Oro Valley AZ, with their daughter Lacey. Rob is a Partner and Portfolio manager at Schannep Investment Advisors in Tucson, www.siatucson.com. He continues to perform regularly with the Wildcats.