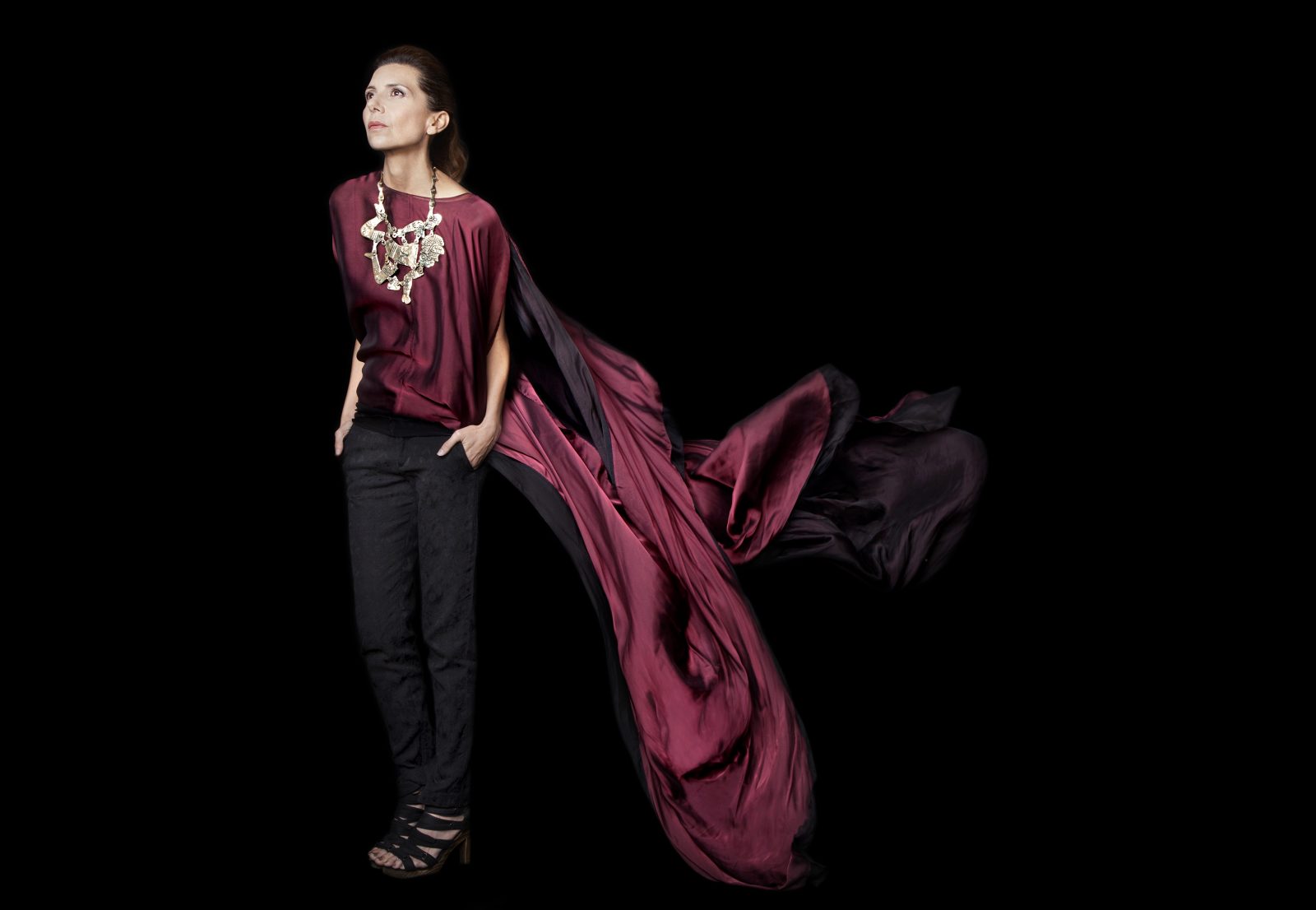 Performance Year: 2019
Born in Mexico City and currently based out of New York City, Magos Herrera, is a dazzling jazz singer-songwriter, producer, and educator with a 20-year career. Magos is regarded as one of the most expressive, beautiful voices and most active vocalists in the contemporary Latin American jazz scene. She is best known for her eloquent vocal improvisation and her singular bold style, which embraces elements of contemporary jazz with Latin American melodies and rhythms singing in Spanish, English, and Portuguese, in a style that elegantly blends and surpasses language boundaries.
Magos started her work as an artist upon graduating in 1992 from the Musicians Institute in Los Angeles. Following this, she continued her studies under Russian opera teacher Konstantin Jadan, perfecting her vocal technique, and later moved to Boston, for specialized instruction on contemporary improvisation.
While in Mexico City, Magos released five albums – Orquídeas Susurrantes (2000), País Maravilla(2002), Todo Puede Inspirar (2004), and Soliluna (2006), the latter recorded with Mexican singer Iraida Noriega. Magos was also part of the acclaimed compilation album series Mexican Divas(2001 and 2003).
In 2008, Magos Herrera moved to New York, to further her artistic ambitions. She promptly became part of the local scene after a highly successful performance at the New York Winter Jazz Festival. Since then, Magos has recorded and participated in multiple projects including the album Stones World: The Rolling Stones Project II (2008) for saxophonist Tim Ries, The Music of Chick Corea with pianist Elio Villafranca and for contemporary composer Paola Prestini for VIA project, among others. She collaborated with former Kronos Quartet's cellist, Jeff Zeigler, in Lens Vivant, created and directed by Mexican visual artist Erika Harrsch, and later again with Harrsch, in the multimedia project, Dream Act.
In 2009 she released her album Distancia (Sunnyside Records) to wide critical acclaim. Co-produced by Tim Ries, featuring pianist Aaron Goldberg and guitarist Lionel Loueke, the album quickly became a top hit on the iTunes jazz category.
In 2011 Mexico Azul (Sony Music) came to life, once again co-produced by Ries and recorded with New York hot shots John Patitucci, Luis Perdomo, Adam Rogers, Tim Hagans, Rogerio Boccato, and Alex Kautz. The album is a tribute to Mexican composers from the Golden Era of the 30s and 40s and earned rave reviews. In 2012, her compilation album, Lo Mejor de Magos Herrera was released. Later, in the summer of 2013, Magos recorded Dawn, with multiple Grammy winner, producer, and guitarist from Spain, Javier Limón, released in 2014 by Sony's OKeh Records label. From this celebrated collaboration, Magos and Limón decided to join forces to record a second album-DVD for Sony Music and UN Women, to invited international top artists like Fito Páez, Eugenia León, Grégoire Maret, Chabuco, to mention a few, in support of the United Nations "He for She" campaign, promoting gender equality. The effort, as expressed by Magos, "embodies an invitation of the possibility of opening this conversation between a man and a woman to change paradigms, through a beautiful Latin American repertoire of classics and originals.
More recently, Magos Herrera recorded a tribute to renowned Mexican poet Octavio Paz, by composer Felipe Perez Santiago, in a project that brought together singers Eugenia Leon and Regina Orozco and was invited as a guest artist in "La guitarra vuela", a documentary honoring the great flamenco icon Paco de Lucía and in March 2017, she presented a touching tribute to celebrated Latin American singer, Mercedes Sosa, along with Pedro Aznar and Ed Simon Trio in New York. Along with a diversity of top performers from the artist community, and under the artistic direction of Paola Prestini, she is a curator and artistic advisor for the "National Sawdust", one of Brooklyn's most innovative venues.
Magos' career has led her to go on stage around the world, including some of the most memorable venues, such as New York's Lincoln Center and UN Headquarters, Washington D.C.'s Kennedy Center, Chicago's Millennium Park, SFJazz in San Francisco, Teatro de la Ciudad de México and Zocalo in Mexico City, Palau de la Música in Valencia, Sala Galileo Galilei in Madrid, London's Union Chapel, and Paris' famous and leading jazz club, Duc des Lombards. Moreover, Magos has participated in leading world jazz festivals, including Montreal's International Jazz Festival, the Montreux Jazz Festival in Switzerland, Barcelona's International Jazz Festival, and the Puerto Rico Heineken Jazz Festival, just to mention a handful of the more than 600 forums and international festivals in US, Canada, Mexico, Puerto Rico, Colombia, Brazil, Spain, Holland, Switzerland, England, India, China, Japan, Malaysia, and Singapore.
An accomplished artist, Magos Herrera has garnered important awards and recognitions. She was twice nominated in 2006 y 2009, for Lunas del Auditorio Awards, presented by Mexico City's Auditorio Nacional to the best live performances, for Best Jazz Concert of the Year, among the likes of jazz greats Bobby McFerrin and Bill Frisell.
Her album Distancia (2009), earned her a Grammy short-list nomination in the Best Jazz Vocal Album category.
In 2010, music journalist Tom Moon, best known for his "search of musical experiences from all genres and every corner of the earth", wrote about Magos Herrera in his famous blog titled, 1000 Recordings To Hear Before You Die, addressing how improvised music was experiencing a significant resurgence at the time. He qualified Magos as the writer of "beautiful, achingly lyrical tunes that deserved to be played again and again, in many contexts."
Leading Spanish language lifestyle women's magazine, Siempre Mujer, featured Magos Herrera alongside Michelle Obama in 2011 as one of the Top 10 Women of the Year for her outstanding work as a musical ambassador for Mexican contemporary music.
In 2013, Mexico's Canal 22 recognized her work on their Mexicanos Exitosos television series. In addition, from 2010-2013, she was a recipient of the Mexico National Grant Program for Performing Artists, presented by Mexico's National Fund for Culture and Arts (FONCA), for representing Mexican jazz internationally.
In a first award of its kind presented to a female artist, she received the Berklee College of Music's Master of Latin Music Award in May 2015 for her contributions to developing and showcasing Latin American music, as well as her own, in a contemporary context around the world.